Gas Demand research
Our analysis of consumer data helps improve the effectiveness of the GB gas market.
Supporting the industry through research
With the help of mainland Britain's gas consumers, we perform gas demand research. 
By contributing to Demand Estimation activities, our gas demand research and analysis:
Provides robust annual profiles of gas meter consumption
Ensures robust and reliable industry processes
Supports the drive for accurate billing
Our analysis of the collected consumer data works to improve the effectiveness of the gas market across the country.
How Gas Demand research works
Gas demand research data is collected in an encrypted format using battery powered recording equipment known as an Automated Meter Reading (AMR) device.
The data:
Is made anonymous and encrypted
Meets data protection laws
Does not record meter readings
Collected data is made anonymous and constantly transmitted using mobile phone networks to a central data gathering centre. It is combined with other anonymous data from the same geographical area and then shared with transporters and shippers through our secure systems.
The AMR does not record meter readings. This means that gas suppliers are still required to take meter readings to calculate consumer bills.
For more details on how data is collected and used please contact the Demand Estimation Team.

Automated Meter Reading (AMR) devices
To collect gas consumption data, an AMR device is used. The device is fitted to the gas meter of each customer taking part in the research.
Some of these devices are owned by us, some are owned by other gas industry organisations.
Our AMRs
An AMR from us will have a sticker attached which will look like or be similar to the image displayed. This equipment is the property of Xoserve. It is always:
A Cello-automated meter reader
Manufactured by Technolog Limited
Installed and maintained by Utilitec Services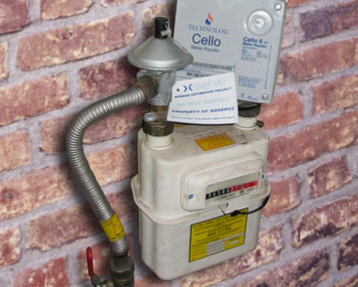 Guidance for meter workers
The industry's work to produce Demand Estimation parameters relies on the kind help from gas customers in England, Scotland and Wales, and access to their meters.
The AMR unit works by recording pulses emitted by each consumer's meter, through a connecting cable. The equipment does not affect the operation of the meter and we have permission to connect to it.
If you are a meter reader, please read the index in the usual way and leave the Xoserve AMR unit connected.
Gas meter engineers and installers
If you are a gas meter engineer or gas meter installer, and need to remove or replace the meter attached to an Xoserve AMR unit, please follow these steps:
Disconnect the AMR communications cable from the meter
Leave the AMR unit and cable in place
Complete your work as necessary
Once you have completed your work, please:
Contact Utilitec Services on free phone 0808 100 2621
Quote the Meter Point Reference Number (MPRN)
Detail the nature of the work carried out and new meter model if necessary
Utilitec Services will then arrange a site visit to reconnect the AMR unit or retrieve it for use at another site.
Thank you for your feedback