Since 1st October 2019 the gas industry has seen increased levels of daily Unidentified Gas (UIG) compared to the previous gas year.
We have previously highlighted this in a news article, to help customers get ready for the new Gas Year. We described several different reasons for the likely increase from 1st October:
Removal of the uplift of Annual Load Profiles for Gas Year 2019/20. Demand Estimation Sub-Committee has agreed that only the Daily Adjustment Factors will be uplifted in the coming Gas Year. This will still add extra weather sensitivity into the Non-Daily Metered (NDM) Algorithm but it takes away the across-the-board uplift of EUC01 NDM allocations. This will generally decrease NDM allocation and increase UIG compared to current trends.


The new End User Categories introduced by Change Reference XRN

4665

are now in use for the first time based on Market Sector Code (Domestic/I&C) and on Prepayment meter mechanism/payment type.

In practice this means that around 10% of the market EUC01 population has been assigned to "flatter" profiles which are likely to reduce NDM allocation in winter and increase it in summer, with the opposite impact on UIG (increase in winter and reduce in summer).

In comparison around 20% of EUC02 sites have moved to a "peakier" profile, with the opposite impacts. You can see the results of some simulation that was presented at Demand Estimation Sub-Committee (DESC) in April here (slides 19 to 24).
In addition, recent changes to the UIG Weighting Factors as developed by the independent Allocation of Unidentified Gas Expert (AUGE) for the new Gas Year will target much more UIG to Class 4 EUC01.

Whilst this doesn't change the total levels of UIG, it does change the sharing proportions, so in addition to the impacts described in the reasons above, it will increase UIG allocation to Class 4 EUC01/02 sites compared to other EUCs and Classes. The Weighting Factors are at EUC Band level and don't differentiate between the old and new EUCs (Domestic/I&C or Prepayment). The new Weighting Factors can be seen here.
Whilst it's still very early, the first few days of the new Gas Year have seen higher UIG than a year ago.
October is always a very difficult month to predict, as we move into the "Shoulder" of winter and demand becomes very weather sensitive, especially as the rate of switch-on of central heating is quite unpredictable.
The graph below shows D+1 and D+5 National UIG for the 13 large Local Distribution Zones (LDZs), since the start of the gas year. There is some modest correlation to the Non-Daily Metered Weather Correction Factor. In other words, UIG increases on colder days.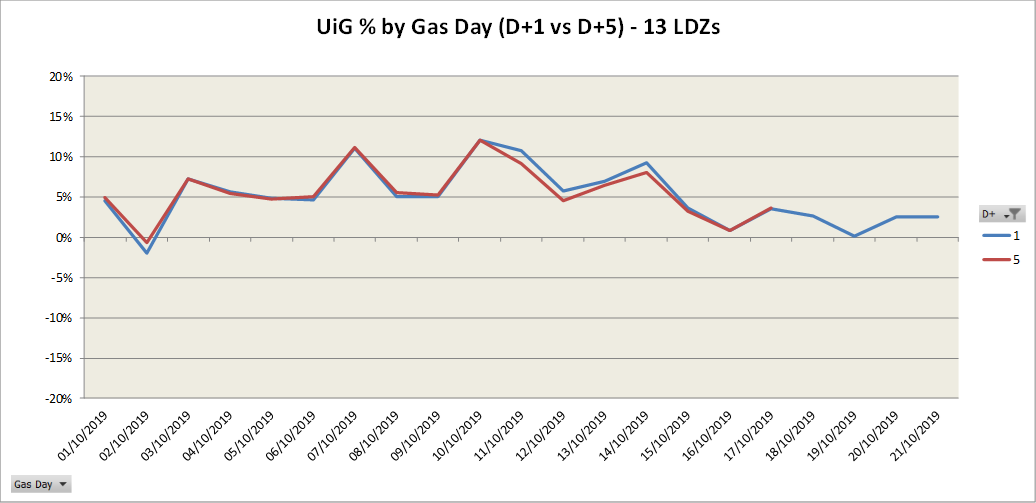 Shippers can assist with managing the accuracy of DM and NDM allocation, and therefore the levels of UIG, in a number of ways:
Working with their DM Service Providers to maximise the number of Class 1 meter reads that load into UK Link
Working to meet their meter read submission targets for Class 2, 3 and 4 sites
Investigating sites in their portfolio which are overdue for a meter reading – especially those without a meter reading since Project Nexus go-live – this currently stands at over 450,000 sites
Reviewing the End User Category 01 and 02 sites, to make sure that their assignment of Domestic v Industrial or Prepayment looks appropriate – and submitting meter model/mechanism or market sector updates if necessary
Making further improvements to the Winter Consumption data, so that more sites get assigned to End User Categories with specific Winter:Annual Ratios
Our Customer Advocate Team is always ready to help any customers who need support in any of these areas.
If you have any questions about this update, please contact Fiona Cottam via the temporary UIG Task Force mailbox: box.xoserve.uigtaskforce@xoserve.com
We are currently experiencing issues with the uigtaskforce email address, which we hope will be fixed before the end of the week.