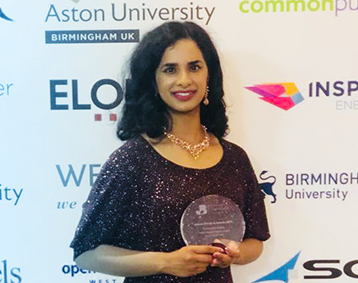 Sabah Hussain, Xoserve's Business Change Lead, has been crowned the Future Face of Industry 2019 at the Future Faces Chamber of Commerce's fifth annual dinner and awards.
Future Faces, the young professionals' arm of Greater Birmingham Chambers of Commerce (GBCC) revealed the winners of the nine sector awards, and the overall Future Face of Greater Birmingham, at the Future Faces' annual dinner and awards ceremony at the International Convention Centre (ICC) in Birmingham.
The Future Face of Industry award, sponsored by RSM, was open to young professionals, 35 or under, living and working in Greater Birmingham who demonstrated strong leadership qualities and had a clear vision for the next
five years.
Joining Xoserve in 2017, Sabah has worked in our Customer and Strategy departments until more recently joining the Business Change team. The Business Change team works across the organisation using change management tools and techniques to support people to adopt changes.
Sabah Hussain, commented: "I'm thrilled to be awarded the Future Face of Industry award. The level of nominations was very high and it's refreshing to see so many young professionals highlighted who live or work in the area. I'm now looking forward to using this as a platform to give back to others and support young people, using my own experiences".
This year's awards had an increase of 25 per cent more entries than last year, and were judged by Louise Teboul from Common Purpose, poet Casey Bailey, disability specialist Shani Dhanda, Mark Smith from Aston University and 2018 Future Face of Greater Birmingham, Rebecca Halbert.
If you are interested in a future with Xoserve, visit our Careers page and see the roles we have available.